GMS-2 Dry Foam Sofa Cleaning Machine Fast Dry Dry Foam Cleaning 3
GMS-2 Dry Foam Sofa Cleaning Machine Fast Dry Dry Foam Cleaning 3
Vacuum Fabrics,Sofa & Upholstery Foam Cleaning Machine GMS-2
Roma dry foam sofa cleaning machine is 3-in-1(foam making,brushing,water suction),professional machine for cleaning upholstery and decorations,suitable for the services in hotels,restaurants, clubs,office buildings,entertainment venues,theatres,upholstery fabric factories and cleaning companies,etc.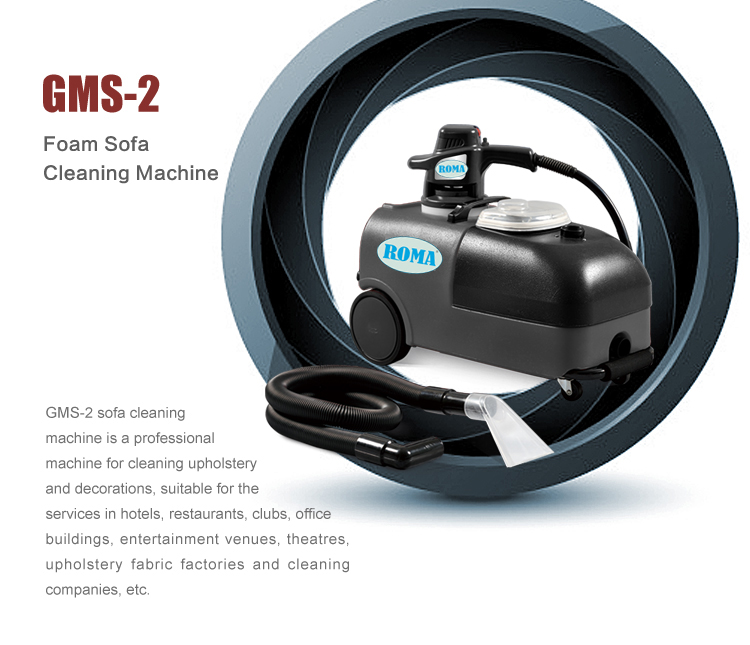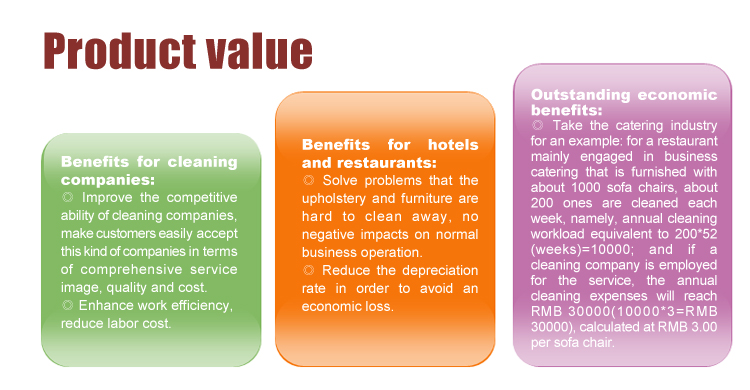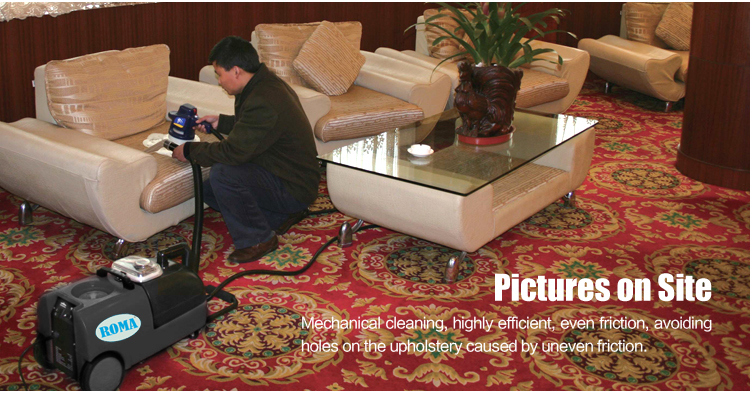 Two essential need for cleaning sofa and banqueting chairs:
1.Clean and tidiness required,no negative impacts on normal operation due to humidity.
2.Long service life required,without damages such as hotels or pores to shorten service life.
Outstanding economic benefits:
Take the catering industry fo ran example: for a restaurant mainly engaged in business catering that is furnished with about 1000 sofa chairs,about 200 ones are cleaned each week,namely, annual cleaning workload equivalent to 200*52(weeks)=10000;and if a cleaning company is employed for the service,the annual cleaning expenses will reach RMB 30000(10000*3=RMB30000),calculated at RMB 3.00 per sofa chair.
Benefits for cleaning companies:
1.Improve the competitive ability of cleaning companies,make customers easily accept this kind of companies in terms od comprehensive service image,quality and cost.
2.Enhance work efficiency,reduce labor cost.
Benefits for hotels and restaurants,etc.
1.Solve problems that the upholstery and furniture are hard to clean away,no negative impacts on normal business operation.
2.Reduce the depreciation rate in order to avoid an economic loss.
Advantages:
Mechanical cleaning,highly efficient,even friction,avoiding holes on the upholstery caused by uneven friction.
Recovery tank,convenient for dumping waste water.
Foam brushing,extremely fast drying,eliminating the negative impacts on business due to humidity.
Cleaning brushing head equipped with DC 12V motor,safe for use.
Technical Specification:
Cleaner Body

Brush Head

Voltage

220V/240V

Voltage

12VDC

Motor Power

700W

Power

75W

Solution Tank

8L

Diameter of Brushing Pad

φ125mm

Recovery Tank

5L

Weight

2.7kg

Hose

1.2M

Power Cord

4M

Weight

12.3kg