RM50E Walk Behind Floor Scrubber
RM50E Walk Behind Floor Scrubber
1.20inchs floor scrubbers
Battery-type,Automatic,Low noise Floor Scrubber Dryer R50B
Scrub and dry floors in a single pass. After scrubbing, floors are immediately dry and safe for traffic. Its characteristics of robust and compact steel chassis, rotational of excellent design, selected components makes application for many kinds of surfaces, such as epoxy resin ground, painted floor, concrete, tile surface ect.
1.Costs efficiency & added value: instead of 6 workers cleaning effect and efficiency.
2.Fast and convenient: scrub & dry at one step, which can make the cleaning thoroughly and a non-professional worker also can operate it.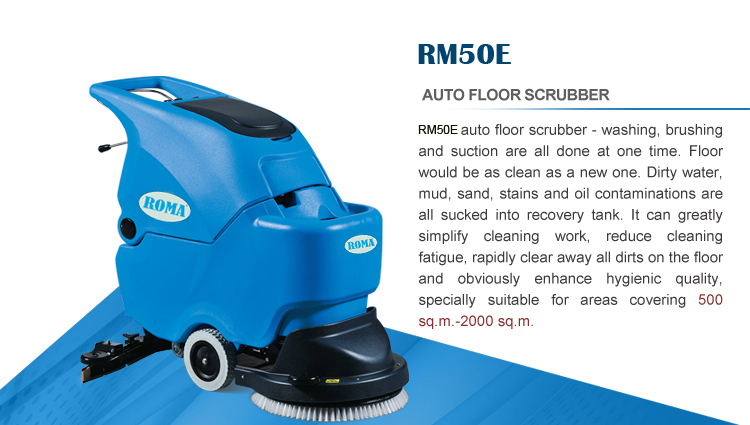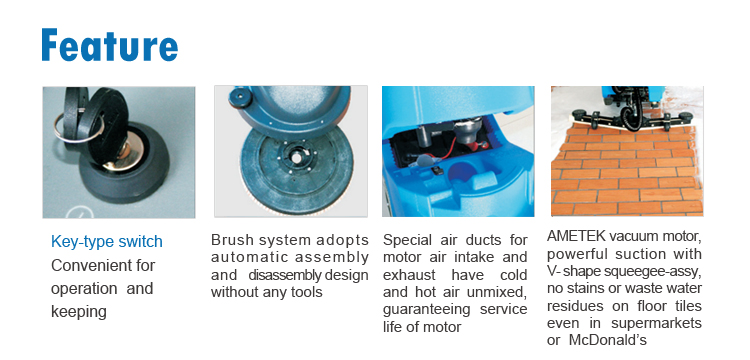 2.Shopping center, mall, supermarket
3.Airports, railway station, bus station, subway station, parking, logistic center
4.Hotels, resorts, hospital, school, office building
5.Exhibition hall, stadiums, theatres, government agencies
Solution tank 50L & recovery tank 50L, suitable for large area.
Double tanks horizontal type design makes even load, flexible and convenient. Unique design for an ergonomic supremacy of handle and within direct view operational switches of control panel makes the operation simple and comfortable.
Equipped with water sensor system not only ensure maximum protection for brush and vacuum system through cutting off power supply but also save water & detergent by shutting up water supply once brush stop working.
4. SLS (Self Leveling System)
Enables constant brush pressure for uniform washing on uneven surface.
Automatic brush attachment & release system and rapid squeegee blade change without any tools.
Unique brush pressure automatic adjustment system and central solution outlet on the brush ensures the entire use of the brush so that it keeps guarantee perfect cleaning effect.
7. Efficient Wastewater Sucking System
Arc shape squeegee with siphon pipe design combined its adjustment makes sure excellent drying.
Easy access to recovery tank (can be rotated 90 °) and battery, so it is no tool needed for scrub deck access.
Built-in extremely large battery allows running for 3 hours continuously.
Solution and recovery tanks are equipped with drainage hoses for easy rinsing.
Impact resistance rotor mould HDPE tanks, squeegee and wheels to hard hit against.
UNITED scrubber, scrubber CAR DRIVER SITTING ROMA - ITALY











ORIGIN: ITALIA

2 YEAR WARRANTY

MAINTENANCE 10 YEARS

Integrated Scrubber ROMA

MODEL: RM 50E

ROMA scrubber complex is designed and goods transport combining both features and suction scrubber water (dirty) together. Suitable for factories, hospitals, commercial centers ...
-------------------------------------------------------

Specifications:

Power supply: 220-230VAC / 50Hz

Hydrophilic bar length: 815 mm

Brush Diameter: 500 mm

Power of motor rub: 220-230V / 1200W

Suction motor capacity: 220-230V / 1200W

Brush speed: 148rpm / min

Working Width: 520 mm

Brush pressure: 30kg

Clean water tank: 50 L

Dirty water tank: 50 L

Work efficiency: 2500m2 / h

Wires: 18m

Weight: 90kg

Size: 1216 × 820 × 975mm

Parts: scrubber brush, pad mounted wheels
Application:
1.Workshop and warehouse
2.Shopping center, mall, supermarket
3.Airports, railway station, bus station, subway station, parking, logistic center
4.Hotels, resorts, hospital, school, office building
5.Exhibition hall, stadiums, theatres, government agencies
6.Cleaning company
Other Products