M1 Dry Foam Sofa Cleaning Machine Combines The Two Functions
M1 Dry Foam Sofa Cleaning Machine Combines The Two Functions
Specifications
M1 Dry Foam Machine For Cleaning Sofa
1.Making Foam, Brush Cleaning& Extraction
2.10% low moisture
3.Sofa, furniture
M1 Dry Foam Machine For Cleaning Sofa
Introductions:
Using ZL032212437 patent making foam technology, M1 Dry Foam Machine For Cleaning Sofa can combine automatic making foam with brushing clean into one system. This Upholstery Low Moisture Extraction System is simple one of the most versatile pieces of cleaning equipment available. Finally, keeping upholstered furnishings at a maximum appearance level is no longer a source of frustration and disappointment.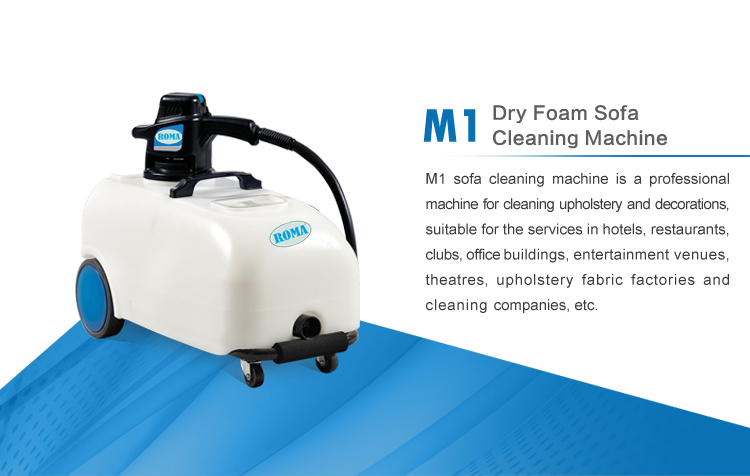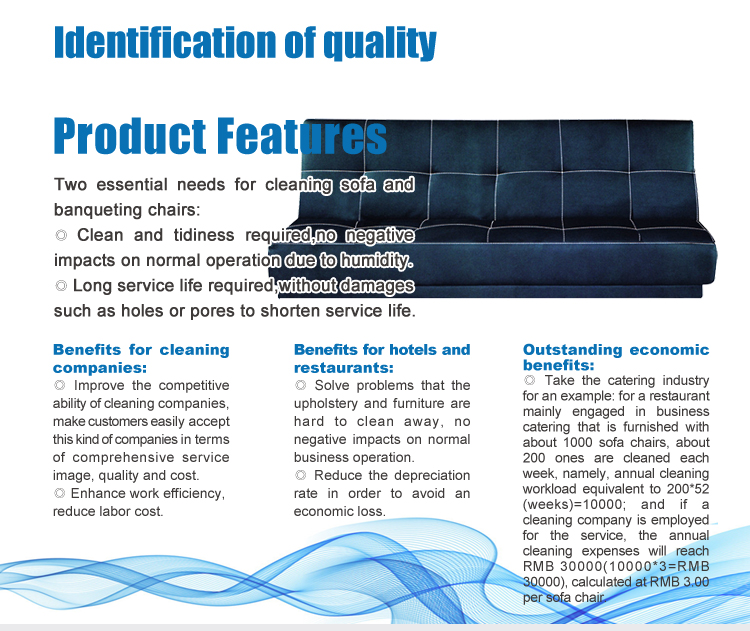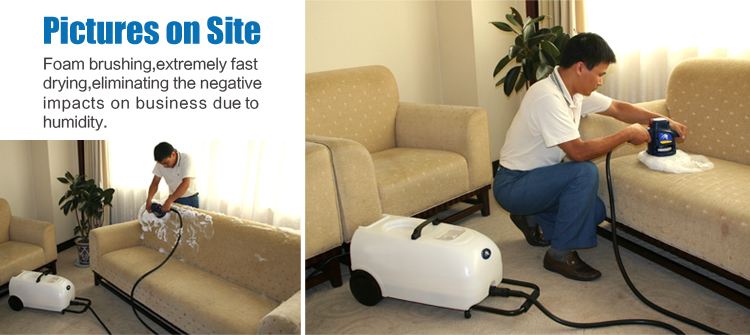 Applications:
M1 Dry Foam Machine For Cleaning Sofa is a set of professional equipment which is great for cleaning all types of upholstery fabrics including velvet, jacquard weaves, tapestry, brocades and leather in hotels, restaurants, clubs, office buildings, recreational places, cinemas and theaters, upholstery factories and cleaning companies.
Features:
A simple and fast method for deep cleaning your upholstered furniture anytime without the inconvenience of getting it wet. Its cleaning provides:
1. Foaming clean makes dry quickly without over wetting.
2. With automatic electrical cleaning methods, the brushing and cleaning are done evenly never any shrinkage, without sticky residue safe for all types of fabrics.
3. 12V DC motor cleaning brush is safety for operation.
Benefits of cleaning company
1. To improve competitiveness of service, and let customer accept company's service.
2. To improve work efficiency and reduce labor costs.
Benefits of hotel and restaurant
1. The cleaning method on dry foam with 10% moisture can make the furniture dry and back in service in 30 minutes. It can solve the problem that it is not easy dry on washing cloth, upholstery fabrics.
2. Never any shrinkage or sticky residue can enlarge all kinds of upholstery fabrics lifetime.
3. Greatest performance and high efficiency can see results immediately and keep the upholstery furniture
Main Technical Parameter:
Cleaner body

Brush head

Weight

10.3KG

Weight

2.7KG

Power

100W

Power

75W

Supply Voltage

220V

Supply Voltage

12V

Tank Capacity

15L

Dia of the pad holding

φ125mm

Length of power cord

4M