RFF35 Escalator Cleaning Machine
RFF35 Escalator Cleaning Machine
Dry Foam Cleaning Powerful Suction Floor & Escalator Cleaning Machine
1.Foam-making,roll-brushing&vacuum extraction 3-in-1
2.Floor & Escalator cleaning
Dry foam Cleaning, Powerful sucktion Floor & Escalator Cleaning machine RFF35
Using ZL032212437 patent making foam technology, RFF35 Dry Foam Self-contained Stairway Cleaner can not only combine automatic making foam with rolling brush but also suck the dirty water by vacuum extraction into one system. This 3-in-1 cleaning system is simple one of the most versatile pieces of cleaning equipment available.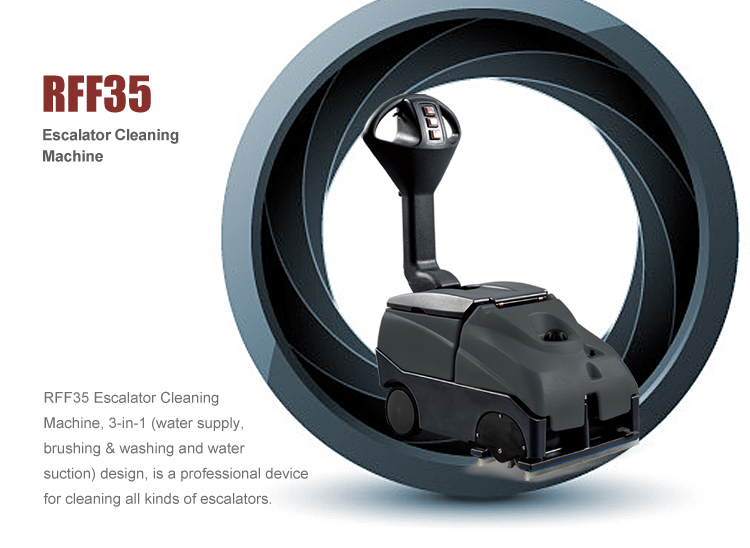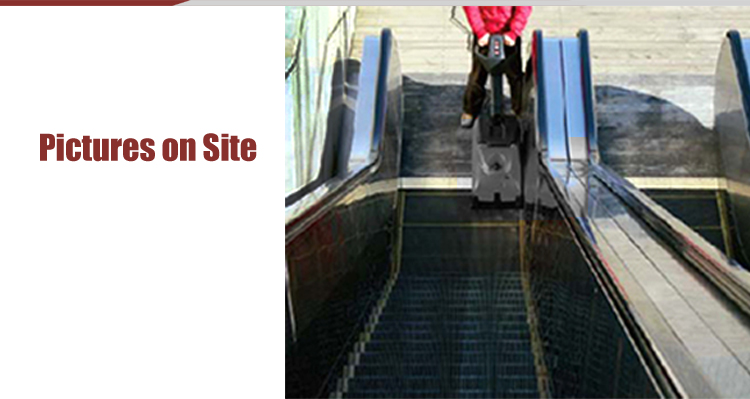 Application:
Widely used to clean hard floor, stairway and escalator in hotel lobby, dining-room, kitchen, supermarket, airport, passenger, production workshop, schools, hospitals, and auto 4S shop.
Exclusive advantages:
1. All the 3 stages of cleaning including making foam, rolling brush and vacuum extraction to be combined in ONE SINGLE operation saves time and money.
2. Its unique design can clean not only hard floor but also stairway and escalator.
3. Dry foam cleaning method can helps to save water 70% compared with other floor cleaning machines.
4. The cleaning method on dry foam with 10% moisture can make the place dry and back in service in quickly.
5. All are designed with easy to use control so that it can reduce operator's fatigue.
6. Folded handle is for easy move and suitable for different places.
Technical data:
| | |
| --- | --- |
| Model | RFF35 |
| Voltage | 220V/240V |
| Water pump | 56W |
| Air pump | 50L/min |
| Brush Motor | 180W |
| Vacuum Motor | 1000W |
| Solution Tank | 15L |
| Recovery Tank | 16L |
| Cleaning Width | 350mm |
| Squeegee Width | 420mm |
| Working Efficiency | 1225 m2/h |
| Dimension | L680 X W430 X H1000mm |
Other Products